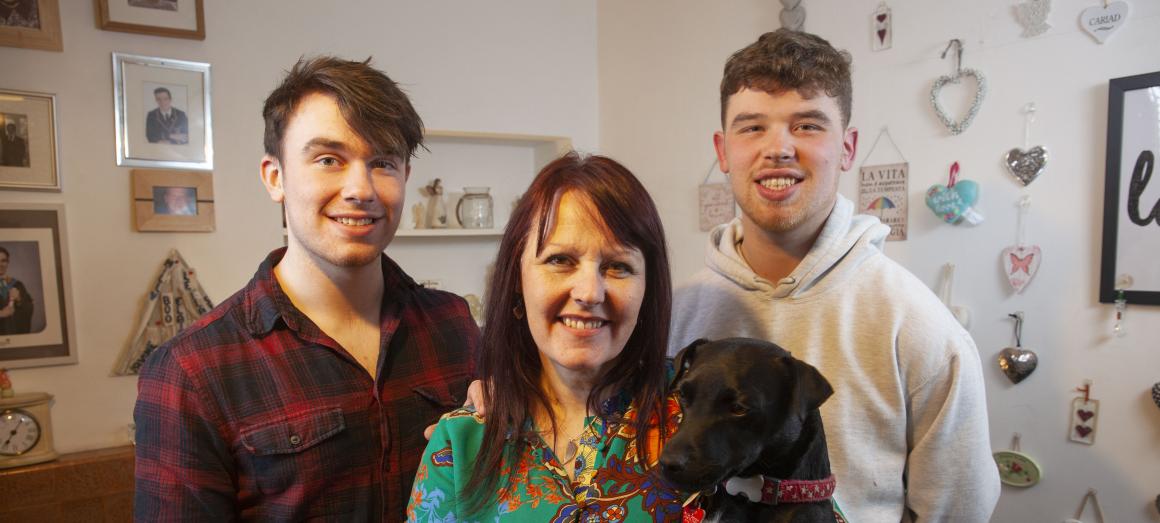 People of Scotland encouraged to share their donation decision with loved ones
Organ Donation Week 2020 saw people across Scotland encouraged to have a conversation about organ donation to help their families honour their organ donation decision.
The law around organ and tissue donation in Scotland is set to change to an opt out system from March 2021. The change in law means that if people aged 16 and over have not recorded a decision about donation, they will be considered as a possible donor when they die.
Organ and tissue donation remains a personal decision and everyone has a choice – to either register to be a donor or opt out of donation, but making that choice known is vital.
Backing the call for people to share their decision was Elaine Laing, 49, from Anstruther, who lost her husband Stephen suddenly in June 2019. She remembered a discussion they'd had years earlier, which helped ease the family's decision for donation to proceed.
Stephen was 51 when he died suddenly at home, eight days after cardiac surgery. The couple had discussed organ donation years earlier, joined the NHS Organ Donor Register, and had even asked their sons, Keir and Irvine, what they would want to happen.
Elaine said: "Stephen wanted to be an organ donor, but because he had a heart attack at home, that wasn't possible. In the hospital quite quickly after we lost him, we were approached by a specialist nurse to discuss the possibility of him being a tissue donor, as he was on the organ donor register.
"I immediately said that they could take what they needed, with no hesitation. I just asked if I could speak to my boys, and they agreed wholeheartedly.
"I never thought I'd find myself in that position. I was utterly devastated, my guiding light had just gone out. But as a family we knew it was what he would have wanted, and the hospital handled everything so sensitively and with empathy, that it didn't feel intrusive."
Stephen donated his heart valves and corneas to help save and improve the lives of others – something that has continued to bring the family great comfort over a year on from their loss.
Elaine continued: "I was upset he wasn't able to donate his organs, but the fact a heart valve could give life to someone, even a child, helped me make peace with that. When we discussed cornea donation, I remember my son saying how lovely it was, that his dad would be able to see the world through someone else's eyes.
"Having that conversation is so important. I know for a fact that it made honouring Stephen's decision easier. It has also brought us a huge amount of comfort as we try to face life without him. We have such lovely memories, and we talk about him a lot. He'll never be forgotten."
In 2019/20, 407 people in Scotland received an organ transplant. There are over 500 people in Scotland currently waiting on an organ transplant.
Public Health Minister Joe Fitzpatrick, said:
"Elaine's story demonstrates the power of sharing donation decisions. Having that knowledge allowed donation to proceed at a time of tremendous loss, and Stephen's gift and legacy is something the family should rightly be proud of.
"The law in Scotland is changing to an opt out system in March 2021, but having that discussion will remain as important as it is now, as under the new legislation, family will always be asked about a loved ones latest views on donation.
"Everyone has a choice, to register to be a donor or to opt out, and I'd encourage people to think about what they would want to happen, and make it known, both now and in the lead up to the law changing."
More Posts
Organ and tissue donation opt out system

Human Tissue (Authorisation) (Scotland) Act 2019 – update

Number of kidney sharing scheme transplants in Scotland more than double

Elaine Kennedy

Living kidney recipients mark 60th anniversary of life-saving surgery

Dr Radha Sundaram