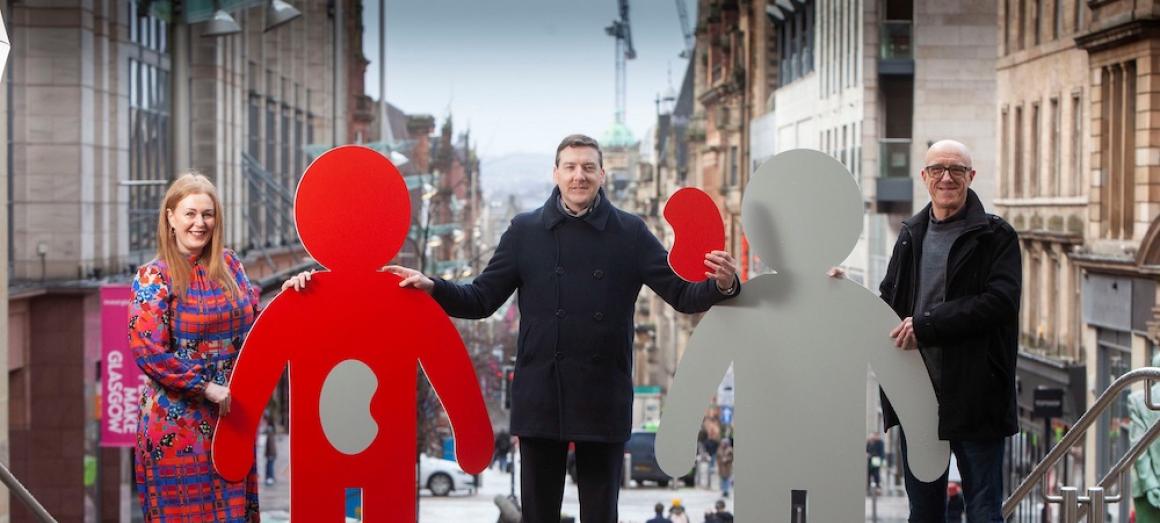 Number of kidney sharing scheme transplants in Scotland more than double
The number of living donor transplants via the UK Living Kidney Sharing Scheme (UKLKSS) have more than doubled in Scotland, as new figures released to mark World Kidney Day show.
The scheme resulted in 28 sharing scheme transplants taking place in Scotland in 2018/19 compared to ten the previous year, an uplift of 180 per cent.
These 28 transplants boosted the total number of living donor transplants in Scotland to 104 - the highest number recorded.
Living kidney beneficiary Jim McIntosh joined with Professor David Manlove, whose research has been instrumental in matching living donors with recipients via the scheme, to highlight how it has transformed his life.
When a donor and recipient know each other but are not a match, they are paired with another donor and recipient in the same situation who 'swap' donors.
This can also involve more than two pairs, and an altruistic donor can help start a chain where up to three transplants can be carried out.
In Jim's case, a three-way match was identified, with Jim's wife Lorna donating her kidney in September 2014 to a patient she matched with, in order for Jim to receive the transplant that transformed his life.
Jim, 52, from Giffnock whose kidneys failed as a result of polycystic kidney disease said:
"Not everything went swimmingly for us initially, but it ended up brilliantly. Lorna is in perfect health and has no ill effects from donating, and I am now back to feeling like a fit and healthy person. I can also see how much happier she is that I am well.
"I know how lucky I am. I got a good quality of kidney from a young male. Because of my blood and tissue type finding a suitable donor could have taken up to seven years, and spending that length of time on dialysis would have been unimaginable.
"Because of what I've been given, I'm able to take my daughter Millie swimming, run around with her or walk up a hill, and I ran a half marathon back in October. Life is busy, it's active, and it's brilliant."
Professor David Manlove added:
"It has been a privilege to be involved in the UK Living Kidney Sharing Scheme, developing algorithms that ultimately save lives.
"After many years of working with NHS Blood and Transplant on the design, the algorithms are now fully automated to enable matching runs to take place, and thankfully have been highly efficient in terms of increasing transplant rates.
"Jim was the first person I'd ever met who had actually been involved in the scheme. All data is anonymous, so to hear his story, and see first hand how his life has improved was quite a moment for me."
Over 800 people in Scotland have helped others by donating a kidney in the last decade. Find out more about living kidney donation.
More Posts
Ten-year-old tissue transplant recipient launches Organ Donation Week

NHS Organ Donor Register turns 25

Save lives with a simple chat

People of Scotland encouraged to share their donation decision with loved ones

Organ and tissue donation opt out system

Human Tissue (Authorisation) (Scotland) Act 2019 – update