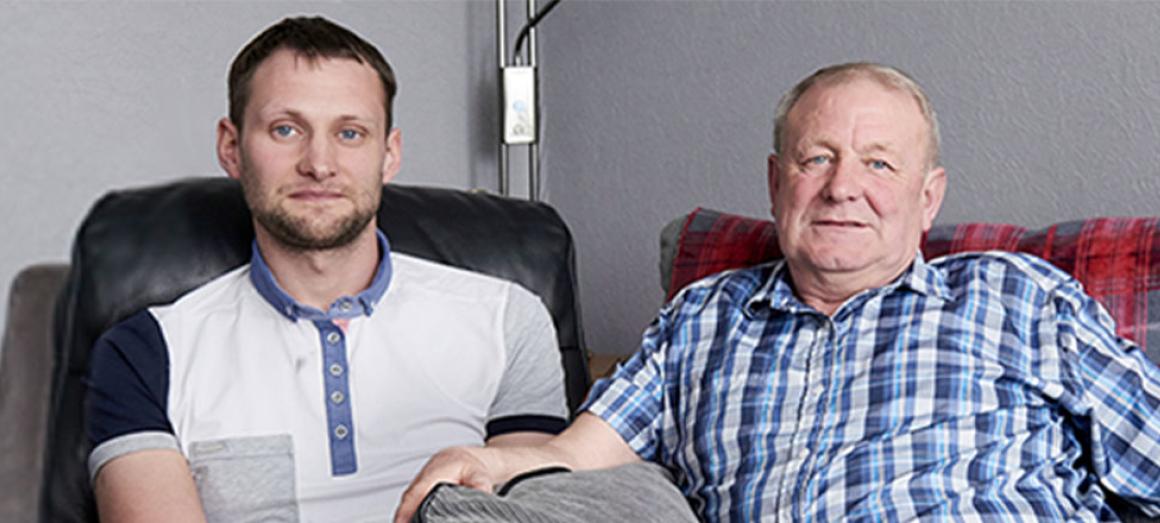 Father and son donation - Brian and Scott's story
Father and son donation.
I was given second chance of life in 2012 after my son donated his kidney to me.
Three years earlier, after visiting the GP to find out why I felt so tired, tests revealed that one of my kidneys hadn't matured since childhood. It came as quite a shock to find out my kidney function was so poor, and within weeks I had started dialysis and was on the list for a kidney transplant.
Dialysis three days a week meant I had to give up my job as a farm manager which was a huge blow. Each journey to the hospital was an 80 mile round trip, so between travelling and treatment, it would take around eight hours a day. Eventually I got used to it as there was no other option, and knew a transplant was my only hope.
I was removed from the transplant waiting list for a spell as I had a stroke coming off dialysis. Once I'd recovered, my son Scott sat me down and told me he wanted to donate his kidney to me. I wasn't keen at first, it would have been different if it was the other way round, but he was adamant. He told me that if I didn't take his kidney, he would donate it to somebody else.
Speaking to the surgeons reassured me as they explained that Scott wouldn't be able to give me his kidney if he wasn't fit enough or if there was any risk to his health. It helped put my mind at ease, and as Scott was so determined, he started undergoing tests in July 2012 and the transplant went ahead that October.
I was lucky as my recovery went really well, and Scott was home just four days after the surgery. I was back at work in the January, just three months later and life started to return to normal.
I was free from the long days of dialysis and had all the restrictions on my diet and fluid intake lifted, which was amazing. It felt like I had been given my life back.
I know that my wait on the transplant list could have been long, but I was given a second chance, thanks to my son. I know that it is and will continue to be the best gift I've ever received.