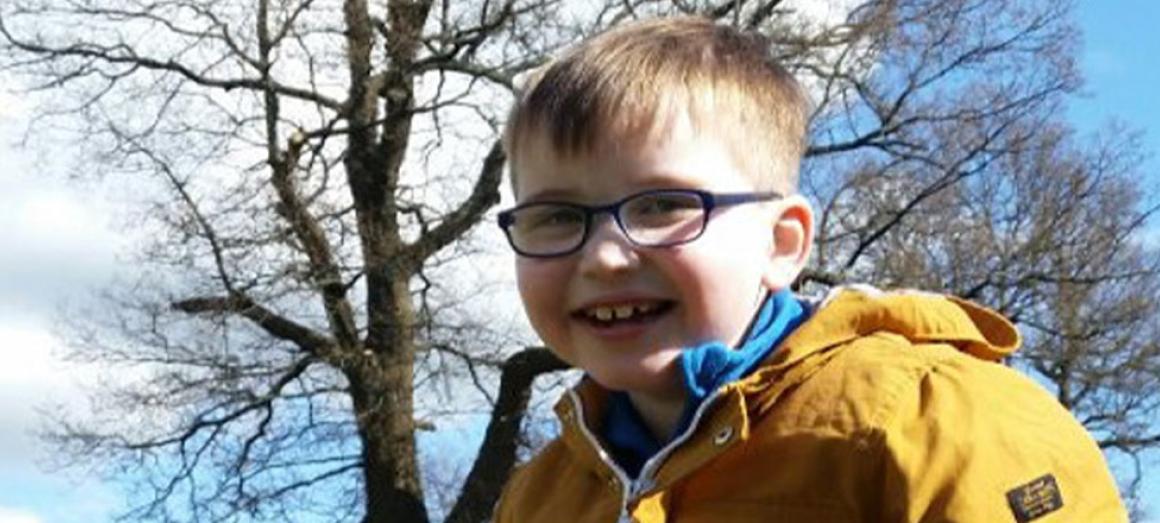 Father & son donation - Ross and Finlay's story
Finlay was 3 years old when he was diagnosed with chronic kidney disease.
I am the proud mum of Finlay aged 8.
Finlay was 3 years old when he was diagnosed with chronic kidney disease. It was discovered purely by chance as blood tests testing for developmental disorders showed up high levels of waste products in his blood. After further investigation he was diagnosed with congenital renal hypoplasia as well as autism spectrum disorder.
It was an upsetting time and a shock for the whole family as there had been no sign of kidney disease. We were advised that he would need a kidney transplant probably by the time he was a teenager. However, Finlay's kidneys had other ideas and he went into end stage renal failure when he was 5 years old. He was very lethargic, pale and ate very little food. He was given a gastrostomy feeding tube to allow him receive extra nutrition. He had regular blood tests and injections to help his haemoglobin. He was started on lots of medication including blood pressure tablets as the kidneys were no longer keeping his blood pressure stable.
He was unable to walk any distance at all and trips out as a family involved the use of a special needs pushchair. Every day at school he had to have a lie down in the afternoon. As his kidney disease worsened he spent more time sleeping and being carried about.
The decision was made in April 2014 to start peritoneal dialysis. He had a dialysis catheter inserted and both my husband and I were taught to give Finlay dialysis at home.
Finlay had peritoneal dialysis 7 nights a week for 10 hours overnight. It was a huge undertaking, but we both felt at least we were doing something that was helping him. Finlay was receiving dialysis for 9 months and it helped his energy levels a little but this would not be enough and he needed a transplant.
Both I and my husband were tested to see if we were able to be the donor. We were both a match but Ross, my husband was the better match. It was a long and stressful work up to the transplant. Finlay had developed an antibody, so at one point we were unsure if he would be able to receive a kidney at all.
The day finally arrived on February18th 2015. Ross went to theatre in the morning in the adult hospital and Finlay late morning in the children's hospital. It was an exciting and worrying day for me as a wife and a mum. Seeing them both after the operation was very emotional. Knowing what Ross had done for Finlay and how this would change his life.....all our lives really. Immediately I was told Finlay's new kidney was working well. His dad had given him a good one.
The weeks that followed were very hectic. Finlay requiring blood tests daily for weeks and taking care of both patients..... I was exhausted.
The biggest difference I have seen in Finlay is his energy levels. He can walk and even run now. Ross and Finlay recovered quickly from the operations and for the first time in years we enjoyed holidays abroad. Finlay loves swimming and without his dialysis tube holding him back, there is no stopping him!