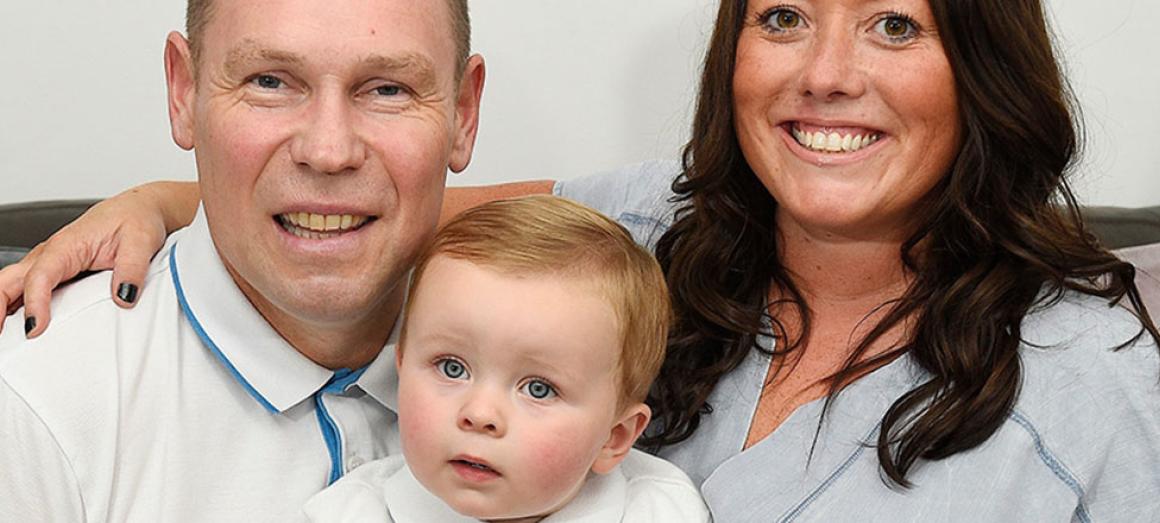 Roger thinks of the person who allowed him to lead a healthy life as a dad.
Every day, Roger Marr looks at one-year-old son, Rocco, and thinks of the person who allowed him to lead a healthy life as a dad.
The 47-year-old had a lifesaving heart transplant in February 2018, after a viral infection eventually caused his heart to fail.
Roger, 47 from Prestonpans, went to A&E at the Royal Infirmary of Edinburgh in November 2017, worried about pains in his stomach, arms and legs and breathlessness that wouldn't go away.
He said:
"I'd taking been taking medication for what I thought was the flu, but things weren't getting any better. I was working in Edinburgh and one day the pain and breathlessness was so bad I took myself to A&E. When I saw the consultant he said he thought I had an irregularity in my heart.
"I was admitted for tests and after a week I suffered anaphylactic shock because of the medication I was on. This led to me being put in an induced coma and blue lighted to the Golden Jubilee National Hospital, as my heart was failing.
"I don't have any family history of heart trouble, but I was being told that I needed a transplant to survive. It was a massive shock, and I really struggled to take it all in."
Roger was first placed on the waiting list for a heart transplant in December 2017 but was taken off just after Christmas when a viral infection caused him to be critically ill. The infection caused the left-hand side of his heart to completely fail and he had a balloon pump fitted to help his heart function
By the end of January 2018 the pressure levels in Roger's heart were back down to a normal level, allowing him to go back on the transplant waiting list.
Roger said:
"It felt like I was in a bad dream and waiting to wake up. I spent half the time just looking out the window thinking 'this can't be happening to me'.
"My wife, Caroline, was heavily pregnant with my son at the time and I had started to resign myself to the fact I was probably never going to see him be born so I was trying to allow that to sink in as well.
"The staff at the hospital were absolutely unbelievable throughout it all. I tried not to tell Caroline everything the doctors were telling me because I didn't want to add to her stress, so when I was alone at nights I'd often break down.
"The nurses would sit with me and chat things through and it really helped me to deal with it all because I was putting such a brave face on during the day for Caroline's sake."
Two potential donor hearts were found but turned out to be unsuitable. Roger was finally told he would be getting his heart transplant in February 2018, and just five days later he walked again.
He said:
"When I woke up I was in disbelief that I finally had a working heart. I still felt slightly weak but instantly knew I was better.
"I suddenly felt so thankful to be alive and for the second chance I'd been given at life. I had seen people on my ward walking a few days after they'd had their transplants and seeing them made me determined to do the same.
"The second and third days after the operation I was helped onto the chair next to my bed and on the fourth the doctors helped me to my feet. On day five I forced myself to get up and do it alone.
"There was a bike on the cardio rehab ward at the Golden Jubilee and when I saw it I said to myself that I would get on it. By the end of my three and a half weeks of rehab I was doing two 5-10 minute cycles on it per day.
"Eighteen months on I'm now training in the gym daily and I've even moved on to upper body weight training. I feel absolutely brilliant."
Speaking about his donor and the family that made everything possible, Roger said:
"It's hard to find the words to explain what they've done for me. They've given me a second chance at life with Caroline and Rocco.
"Every day when I look at my son I imagine the pain and suffering they must have been going through when they made the decision to let me have their loved one's heart.
"I'm so blessed and thankful for the gift of life they've given me. I don't think any words I find could ever repay them.
"I also think the move to the opt-out system for organ donation is going to be great. If it means more organs will be available for people who need them then why not have it.
"Before I needed my transplant I wasn't really aware of the benefits of organ donation or how important it is but I'm literally walking proof that it works and can transform people's lives.
"My biggest hope is that I'll get to watch my son grow up. I can't wait for Caroline and I to guide him through life and teach him right from wrong.
"I'm so grateful I'm healthy enough to be part of his life after thinking I wouldn't even get to meet him. I just want to do the best I can for him."