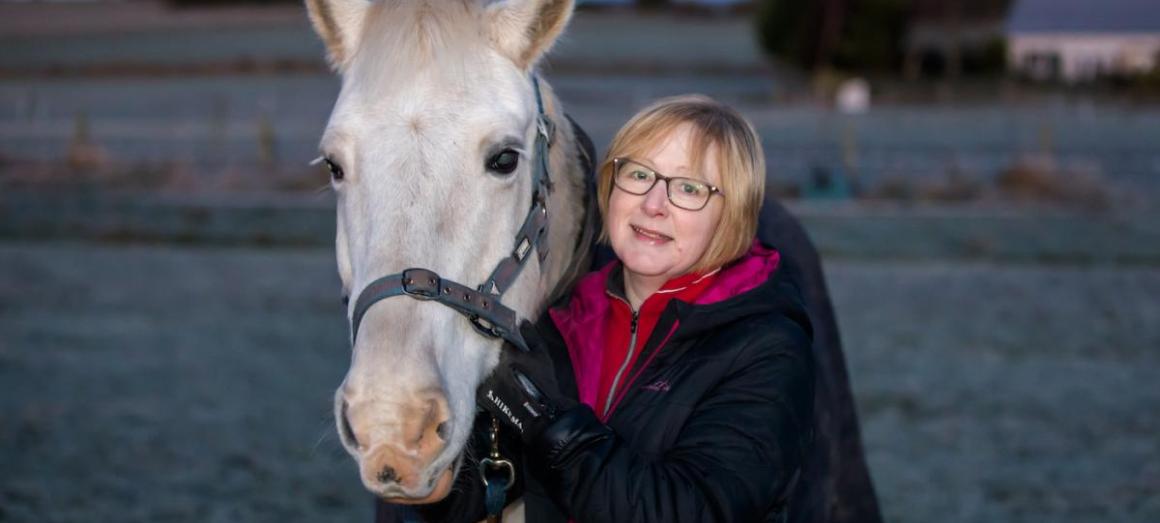 Islet transplant recipient marks World Diabetes Day
A woman with type 1 diabetes whose life was transformed by islet transplantation has shared her story to mark World Diabetes Day.
Jill McDonald from near Inverness underwent the procedure in June 2016, with further islet cells transplanted in October 2016, due to her life being put at risk from hypoglycemic unawareness – a condition which meant she had no idea when her blood sugar levels were going to drop.
The transplants resulted in Jill being able to come off insulin for a few years, removing the restrictions her condition placed on her life.
The Scottish National Islet Cell Transplant Programme marked its 10th anniversary in November 2019, with over 100 islet cell transplants having been carried out since its inception, transforming the lives of 60 patients with type 1 diabetes.
The transplant involves extracting islet cells from a donor pancreas and implanting them into a patient's liver, to help restore hypoglycemic awareness and reduce dependence on insulin, leading to life-changing results for patients.
The Royal Infirmary of Edinburgh is the only islet transplanting centre in Scotland, supported by the Islet Cell Isolation Laboratory at the Scottish National Blood Transfusion Service.
Diagnosed as a teenager, Jill, 49, was able to manage the condition until her body became more and more insulin resistant, eventually resulting in her being on an insulin pump 24 hours a day.
Around four years ago, Jill went into a diabetic coma, and further seizures meant that she was referred from Raigmore Hospital to the Royal Infirmary of Edinburgh to be assessed.
Jill, said:
"When my body became insulin resistant, it impacted hugely on my quality of life. I didn't know from one minute to the next how I would be, as my blood sugar levels could change in a matter of minutes. That made doing day to day things more difficult, and the uncertainty meant I started to lose my independence.
"I was apprehensive about a transplant but had got to a stage where I thought anything was worth a try. I couldn't believe the difference the first transplant made. I had more energy and control over my life and was able to lessen the amount of insulin I was on.
"My body started to produce insulin by itself in the January after the second transplant. It was a big adjustment as I was so used to trying to control my blood sugar, but it gave me so much more freedom. To be able to open your eyes and not have to think 'what is my body going to do today' was just incredible.
"Looking back, there was constant worry. Even though I'm back on a minute amount of insulin, the difference is night and day. I'm back riding my horse Fergus which I love and can plan things without all the restrictions that stopped me fully enjoying life.
"I wanted to share my story as I think there's so little awareness around the difference islet transplantation can make to someone with my condition. I've always felt so grateful to the donors and their families and try and spread the word to help others in the same situation.
"People used to say I was brave, but it's the people who donated that are the brave ones."
The Scottish Islet Transplant Service is a collaboration between the Multi Organ Transplant Centre at the Royal Infirmary of Edinburgh (RIE), the Scottish National Blood Transfusion Service and National Services Division, part of NHS National Services Scotland.
More Posts
World Sight Day – David's Story

Living Kidney Donation – The Exceptional Gift

Exploring the Islamic Perspective on Organ Donation

Ten-year-old tissue transplant recipient launches Organ Donation Week

NHS Organ Donor Register turns 25

Save lives with a simple chat