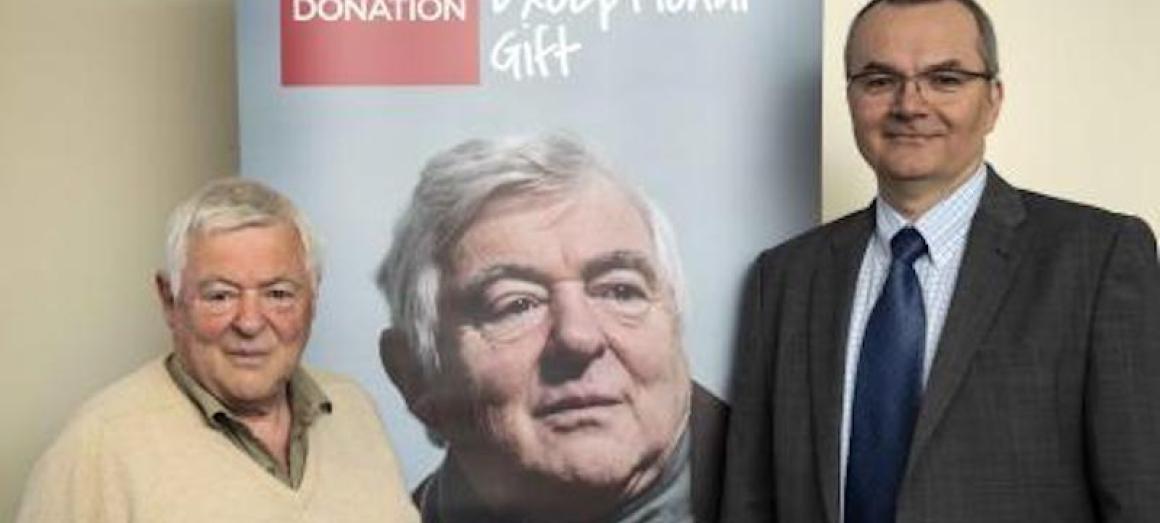 Tenth Anniversary of Altruistic Kidney Donation Marked by First Donor
The tenth anniversary of altruistic donation in Scotland was marked by one of the very first donors at the Royal Infirmary of Edinburgh on 11 March 2019
John Fletcher, who donated his kidney to a stranger in March 2009, will join with transplant surgeon Gabriel Oniscu, who carried out the donation operation that transformed someone's life.
Since 2009, 78 people have altruistically donated a kidney in Scotland. A kidney from a living donor generally offers the best outcomes for patients living with kidney failure who need a transplant.
Beneficiary Matthew Catlow, whose transplant went ahead in 2015 allowing him to go on to become a father, spoke of his gratitude for the life he now has, thanks to someone he has never met.
There are two routes to living kidney donation – directed donation where a friend, relative or partner donates to a loved one, or non-directed altruistic donation which involves a person donating to a stranger.
A healthy person can lead a completely normal life with one kidney, and one altruistic donor can start a 'chain' of transplants, meaning up to three people can receive a transplant as a result of that person's gift.
An awareness drive has been launched, ahead of World Kidney Day (14 March 2019), as new research highlights almost a third of people in Scotland (30 per cent) hadn't heard of living kidney donation.
The research also revealed the likelihood of people in Scotland donating – with 83 per cent of those surveyed saying they'd be likely to consider donating to a family member, over half (56 per cent) likely to donate to a friend, almost a quarter (24 per cent) to a colleague, and 16 per cent saying they'd consider donating to a stranger.
John Fletcher, 72, from Auchtermuchty in Fife, made the decision to donate his kidney as he felt he'd been lucky in his life and it was something he could give back.
John said:
"For me, it was the best thing I ever did. At the time, people around me thought I was crazy for even considering it. But if I could do it all over again, I would.
"The way I looked at it, it was a few weeks out of my life to save someone else's. It was major surgery, but the recovery was a lot quicker than I expected, and I was back at work within weeks.
"The feeling I had not been expecting was the sense of wellbeing after I'd donated, knowing I'd transformed another person's life, and their future."
Public Health Minister Joe FitzPatrick said:
"Living kidney donation is an exceptional gift which has the power to transform the life of someone who needs a kidney transplant.
"Over 800 people in Scotland have helped others by donating a kidney in the last decade, however there are still more than 400 people in Scotland in need of a kidney.
"There is a wealth of information and support available for anyone considering being a donor."
Mr Gabriel Oniscu, consultant transplant surgeon, Royal Infirmary of Edinburgh said:
"Over the past ten years, living donation has developed into being an important part of our transplant activity, and it's fair to say that without it, a significant number of patients would not be alive today.
"I continue to be astonished and humbled by the generosity of people who come forward to donate a kidney to a complete stranger, and it's a privilege to be part of that process. Transplantation is full of special moments, as you see the benefits a donated organ brings in terms of prolonging and enriching someone's quality of life."
More Posts
Renal Education and Choices @ Home (REACH) Project

Buildings Light up in Green Across Scotland

Organ Donation Week 2018 Activities

Living Kidney Awareness Week 2019

Living Kidney Awareness Week - Matthew's Story

Living Kidney Donation Awareness Week - Grant's Story