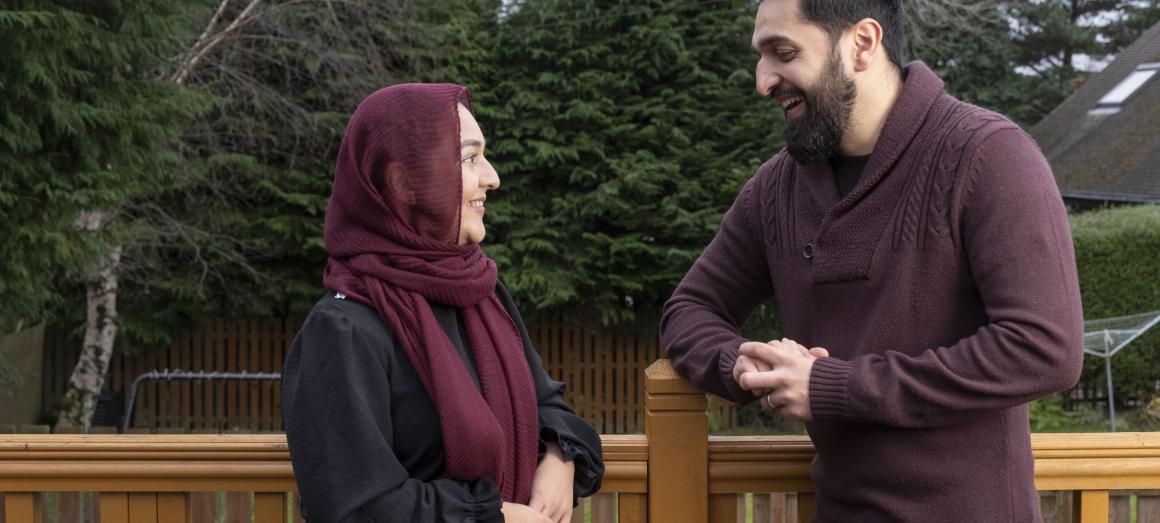 Ifrah and her brother Adeel share their living donation story.
Living kidney recipient Ifrah Raza, 31 from Glasgow, recently marked the one-year anniversary of her transplant, and her new life, made possible by her younger brother Adeel, 28.
The successful surgery came 17 years after her uncle Ijaz stepped in to donate a kidney to Ifrah, when she was just 13.
Ifrah's initial transplant was needed after she suddenly became gravely ill, aged 11. She was subsequently diagnosed with kidney failure, later learning that she was born with small kidneys.
Speaking about that time, Ifrah said:
"Everything happened so suddenly, I didn't have any health issues before my diagnosis. We later discovered that I was born with small kidneys, but I didn't have any symptoms until it was too late.
"The first time round it was all new to us, it came as a complete shock. I was critically ill. I had a cardiac arrest and was in a coma for a few days. The doctors had told my family to come say their goodbyes…they said it was a miracle that I survived.
"I was only 11 at the time so I didn't really have much say in the transplant side of things, everything was discussed with my parents, but my family immediately put themselves forward.
"The second time round, I was more prepared as I always knew that I'd need another transplant at some point. Unfortunately, a distressing life event triggered my first transplant to start failing again, but this time me and my family knew a lot more about the process.
"Both of my brothers wanted to help. I was definitely more hesitant than them, I just didn't feel comfortable with it, but they were keen to push on with the tests.
"The process had to be paused due to Covid, but fortunately Adeel had gone through most of major tests by March 2020, although we didn't yet know whether he was a match. So in the interim I had to go back on dialysis.
"We were fortunate with the timing as the remaining tests my brother had left to do were minimal, so everything was finalised around August. I got the transplant in late September and then we went back into lockdown two weeks later.
"Amazingly the transplanted kidney worked almost instantly! We weren't allowed any visitors this time round so it was very different to the first time, but Adeel and I were able to see each other and have Zoom calls with family as we recovered.
"You have to be really patient with yourself as you recover. The lockdown actually kind of helped with our recovery – we felt like we weren't missing out on anything and with me being so high risk, people had to stay away.
"We both ended up getting Covid this summer. Luckily, I'd had both doses of the vaccine but it still had a major effect. I felt like I took ten steps back with my recovery, but thankfully things are now stable again. Adeel fortunately only had mild symptoms."
Talking about life on dialysis, Ifrah said:
"As I kid I spent two years on dialysis. At first I was on hemodialysis, which is very aggressive. It's something you can't ever forget – it was very restrictive, I couldn't really go to school as it takes up half the day, and I felt so drained all the time. Before you've had a chance to recover from one session it's time to go again. Then I changed to peritoneal dialysis, which takes place overnight, but you have to time everything perfectly so the nine to ten hours of treatment is finished in time for any plans the next morning.
"This time round I spent six months on dialysis, but immediately said no to hemodialysis. The idea was originally to have peritoneal dialysis overnight and work in the day, but obviously we didn't expect Covid to happen. I started dialysis in March 2020, just one week before lockdown began."
Talking about the impact the transplants have had on her life, Ifrah said:
"On dialysis your life is restrictive, almost like it's on hold. You get by, but it's tough, then you have the fluid and diet restrictions. It's like my brother and my uncle gave me my life back, my energy levels are through the roof, and no more restrictions! You get so used to feeling unwell, but when you're healthier again the change is unbelievable. You can't ever repay them, you just want to live your life a certain way to make them proud."